Giant mushrooms or an umbrella?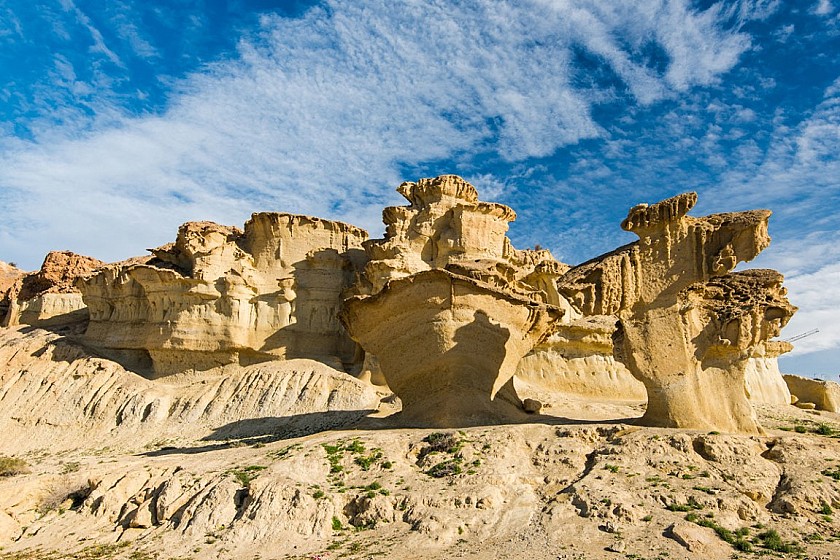 The descriptions by visitors of the rock formations at Bolnuevo beach, near the Port of Mazarron, mention giant mushrooms, an umbrella, a wonder of Mother Nature and an enchanting landscape. Everyone sees something different in these meter-high, bizarre creations. A process of millions of years was required to 'sculpt' the so-called Gredas de Bolnuevo into the almost otherworldly shapes that we can now admire.
Web sites on the Internet often write in lyrical terms about the feelings that the seeing of the rocks stirred in many. But misunderstanding also reigns among many people. Some wonder why a large parking lot should disturb the idyllic setting if necessary. Others do not understand why everyone is allowed to climb the rocks. Or what drives the local authorities to stop promoting this unusual tourist attraction.
But perhaps it is best if we just accept the rock formations for what they are: a wonderful play of nature. It is clear to experts how it came about. Over millions of years, climatic changes and tectonic plate shifts caused great differences in the water level of the sea. During the period of high water levels, a cliff must have formed on site with sediment from the sea and the adjacent Sierra de las Moreras mountain range. As the sea level dropped, the sediment, which consisted of softer and harder materials, was released to the elements. Wind and rain did their eroding work and formed the jagged rocks as we can now see them.